I'm linking up with Patrice at Everyday Ruralty.
1. Bacon or sausage?
Bacon is my first choice--and sausage second. I never eat them for breakfast unless we're out. It's usually BFD.
2.Do you take time to "smell the roses"?
Sometimes------
3.What's your favorite stone fruit?
Peaches
4.What is the thing people notice first about your personality? (quiet--outgoing- polite-- funny-- etc)
I don't know-- I try to be funny.
5.Is there a hobby that you have wanted to do but haven't started yet?
I would love to find time to make wooden prim items and rug hook.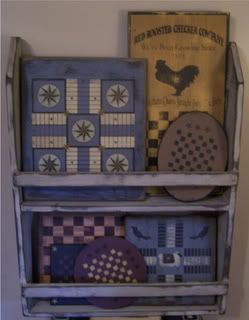 picture from
The Pickled Pepper Patch
Picture from .blacksheepwooldesigns.com
I also would like to have bees, haha I'd actually like my husband to be the beekeeper.My ex-stepdad was a beekeeper and we always had honey around growing up.