I
pinned this
and decided to try our luck with natural dyes for egg coloring.
This is the picture from Just Short of Crazy. Her eggs are beautiful!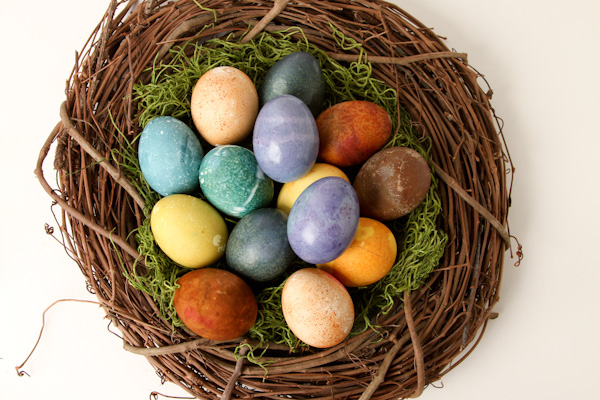 These are our eggs. The turmeric made the prettiest yellow eggs, our blueberries eggs didn't get as purple, the tea dyed eggs are the pretty light brown eggs by the yellow ones, the tan ones are a combination of cayenne pepper and chili powder. I had to leave about an hour into dyeing the eggs so I'm not sure how long they soaked. I did add too much vinegar in with the blueberries, so that could be why they didn't get as dark. Next Easter I think I'll wrap a few with rubber bands and figure out how to get green and pink.
Be sure to check out what everybody else has made for Pinned It, Made It! Monday over at Tammy's --
Country Girl at Home.
Amy~~ Easter morning
Easter Egg hunt at Grandma and Grandpa's. I didn't get a picture with everybody to together, I'll have to work on that.
Looking at pictures from last Easter it looks like there was a week difference in the date, it was so green by
this time last year
compared to what it looks like today. We've also had cooler weather and more snow this year.
We had a wonderful Easter, Kaitlyn was home for the weekend, I made my usual
Broccoli-Cauliflower
Salad and Deviled eggs. My sister in law made the most important thing Chocolate Meringue Pie! She also made a Lemon Meringue Pie and an Angel Food Cake. I don't want you thinking this is all we ate--- ham, potatoes and veggies were also on the table. My oldest daughter Elizabeth had to work so she missed out on the fun.
And the winner of my birthday giveaway ----------------is Tammy @
Country Girl at Home
.
Wendy
and
Lori
if you send me your address-----I'm also going to send you each a spring prim that I made. Thanks so much for the warm birthday wishes!!